I've got something counterintuitive to share with you about job hunting.
Stick with me, because this could change the game for you.
Now, some of these steps might sound like old news, but trust me, there's a major strategy twist here that most folks on LinkedIn are totally missing out on.
A few years back, a career counselor dropped this truth bomb on me: "Did you know that about 80% of jobs aren't even posted online?"
Hard to believe?
But it's a golden nugget to keep in mind while you're on the job hunt.
Okay, brace yourself, because I'm about to spill the beans on how to uncover that dream job without trawling through online job boards. And here's a key secret sauce – you need to be super clear about the job title or industry. 
Alright, enough suspense.
Here's the foolproof strategy to leveraging LinkedIn for your job quest – and yes, you read that right, we're talking about finding a job that isn't plastered all over the internet.
Step 1: Get your LinkedIn profile polished and shipshape. 
No shortcuts! Add your photo, highlight your work history, skills, education, and throw in some interests for good measure. This is your digital first impression, so make it count. Need help with this? Click here to review my profile.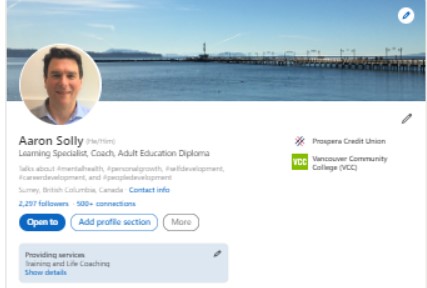 Step 2: Use the search field once you're logged into LinkedIn. 
Type in the job title or industry that's got you jazzed up. Alternatively, you can even type in the industry you're eyeing (see below).
Step 3: Click on People
Spot that People icon? Give it a friendly click. It'll go green, just like a traffic light.
Step 4: Click on Connections
 And now, onto the Connections icon. You know the drill, green means go. Also, make sure to tick off the 1st, 2nd, and 3rd connections options. Then hit that magic "Show results" button.

Let's clarify those connection types real quick:
– 1st connections: These are your direct buddies – you've either connected or accepted their connection.
– 2nd connections: These are like friends of friends. You share a mutual connection.
– 3rd connections: These are friends-of-friends-of-friends. You've got a 2nd-degree connection in common.
Step 5: Review your search results
Brace yourself, you're gonna get hit with a number – that's the outcome of your search. It's all about the grand total of your 1st, 2nd, and 3rd connections. If it's blowing up like a fireworks display, click the down arrow on Connections to narrow it down to 1st and 2nd connections (see below).
The end goal? Build a network to reach out to. A sweet spot of 10 to 100 results is your aim. If you're swimming in connections, consider upping your game by adding more 1st connections – old pals, colleagues, family, mentors, you name it.
Step 6: Review your list of connections
Time to sift through those connections. You've got a list of people who are either in the role you want or are part of the industry you're eyeing. My list is blurred out for privacy, but you'll spot a Connect button next to each name. These are the folks who can give you a real peek into what it's like to do that gig day in, day out.
And now, the moment of truth – reaching out to those connections. Let's say you're eyeing Evan. 
Click on Connect and then click Add a Note.  You increase your chances of a response when you send a note to the connection. 
Send him a note that says something like:
"Hey Evan, I'm exploring my options as an Account Executive. Noticed we've got some mutual connections. Would you be up for a quick chat about your experience in the role?"
Keep in mind, we're in research mode here, not job-begging mode. Remember, a whopping 80% of jobs are hiding under the radar.
Step 7: Reach out to two connections in your desired role/industry per day
Your mission, should you choose to accept it: ping at least two connections per day. Focus on the "yay"s you get. Don't sweat the nays or the silence. Heck, fire away more than two a day if you want more positive responses. Your target? Score at least ten virtual or phone call meetings per month.
Step 8: Prepare for your meetings
You're in, meetings booked, dreams taking shape. Now, for the meet-up, dress to impress – even if it's a virtual coffee date. Pro tip: ensure your background is profesh, whether it's your home office or a virtual backdrop.
Here is what you do for these meetings.
Send them an agenda in advance.

Ask questions about their role and company.

Don't ask for a job.

Ask one final key question.
Here is a simple agenda to email them in advance when you book the informational interview.
Informational interview agenda
Introductions
Your Role/Team
Your Company/Industry
Other considerations
Sample questions
Here are sample questions you can have ready to ask during the Informational Interview.
You don't need to necessarily ask all the questions. The goal is to get them to answer questions that are important to you to know about the role, the team and the company.
Get them talking and you can probe further based on their responses.
Focus on making it a conversation vs. asking question after question.
Remember that you can always say, "Tell me more about that.", after they answer a question.
Tell me about the your role

What excites you about your role?

What skills, talents, abilities do you have to be in this position?

What does an average day look like?

What challenges do you deal with regularly? How do you focus on overcoming them?

How is compensation structured for this position?

How would you describe your team?

What roles make up the team?

What are each of the roles focused on?

What does the team do amazing at?

What are the roadblocks they are currently facing?

What is it like to work for your company?

How would you describe the culture?

What is the company focused on over the next 3 to 5 years?

What is the leadership team like?

What other things are important to consider when in this position?
Step 9: Meeting Day – What to do and not do
Meeting day! 
Here is what you do for these meetings.
Send them an agenda in advance.

Ask questions about their role and company.

Don't ask for a job.

Ask one final key question.
Now, the BIG reminder:
DON'T ASK THEM FOR A JOB.
DON"T ASK THEM ABOUT JOB OPPORTUNITIES.
Seriously. You're on a research mission, and that's all you are focused on.
Watch the clock
You are going to make sure you have a clock or your phone close by to watch the time.
You want to stay committed to 15 minutes.
If the conversation is going really well, you can always ask if they are able to chat for another 5 minutes. If not, you can always ask if you can book another meeting with them to go through all the questions.
Review the agenda and go for it
Thank them for meeting with you. Review the agenda with them and go right into the first question, "Tell me about your role as a…."
Here is a key secret to this meeting. I have mentioned it before in the initial note you sent to them on LinkedIn.
You are in research mode. That is how you have positioned the meeting.
Remember this…..Here is what you do for these meetings.
Send them an agenda in advance.

Ask questions about their role and company.

Don't ask for a job.

Ask one final key question.
Now, there is one final key question you are going to ask them at the end of the meeting.
You need to ask this at the end of every Informational interview you have.
"Do you know anyone else that you would be good for me to speak with?"
This is where a number of things may occur.
#1. They may give you names of other people on their team to speak with.
#2. They may give you the names of people they know who work at other companies with the same title.
#3. They may say that you should speak with their manager or the company recruiter as there is a position available that hasn't been posted public yet.
#4. They may say no. (That is ok.)
More than likely, you will get a response similar to the first 3 listed above.
There's one magical question you drop before you wrap up: "Do you know anyone else in your company or industry that would be good for me to talk to?" 
This is how you find those opportunities that are not posted online.  
This is how you get your resume to the top of the pile because you are creating connections for jobs you want.  
Who gets hired is usually someone who is recommended by an existing colleague or connection to the hiring team.  Who you know really does help you find the job you really want. 
So, get out there, connect like a pro, and watch the magic unfold.
What if they ask you about job opportunities at their company?
Now and only now is the time you can talk about jobs at their company.  Why now?
They brought it up.  If they bring it up, this is your key opportunity. This is the ideal scenario. 
Stay persistent, my friend.
Keep those two connections a day rolling in – who knows, your dream job might just be a conversation away. 🚀
Need help with creating a solid plan to follow these steps?
The steps provided are all there for you to take advantage of, however, it takes discipline every day to get the results. 
Click here to contact us to discuss ways to increase your success of landing that dream job.